ACDF, in its 3rd edition, will be featuring some never-before-seen documentaries covering dance, art, scenic and architectural highlights of China on Sunday, February 25th, 2018 between 1:00 PM to 4:30 PM as part of citywide Year of the Dog celebration.
FREE AND OPEN TO THE PUBLIC. All the documentaries will be shown in Chinese or English with English subtitles.
Venue: Cassidy Theater at the Chicago Cultural Center, 78 E Washington Street, Chicago. (Please enter on the Randolph Street entrance)
Doors open at 1:00 PM.
XXXX
1:30 PM Shaanxi Drum Dances – (25 minutes)
Chinese people have long performed graceful dances to the accompaniment of drums. In this short film we will see the people of Shaanxi Province performing different kind of drum dances representing different cultural connotations and expressions of people's feelings.
2:00 PM The Taoping Stronghold – (15 minutes)
Known as "the mysterious Oriental castle", the Taoping Stronghold stands upright against a natural environment of high mountains and rolling rivers in the northwest section of Sichuan Province. It is a spectacular feat of human architectural history, created by the Qiang people, who have a history of more than 5,000 years ago.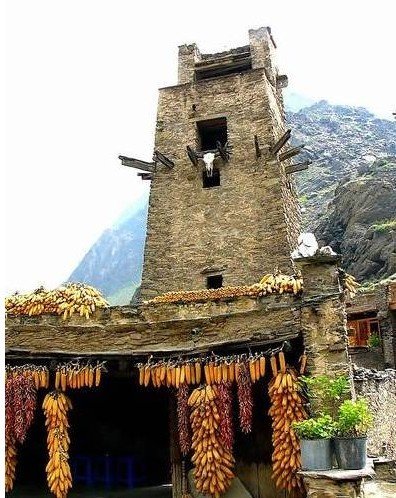 2:30 PM 1st set of Raffles Prizes to be drawn. Winners must be present to win!
INTERMISSION (15 minutes) - Audiences will be enjoying live performance performed by the teachers and students of Yin He Dance.
ABOUT YIN HE DANCE:
Yin He Dance is a nonprofit organization whose programs promote Chinese dance in the Greater Chicago area. Its three main programs include a professional performing company (Yin He Dance Company), a school of dance, and art education. Through these three programs, we hope to build new avenues of cultural dialogue and most importantly, share the joy of dance with all communities. Learn more about us at www.yinhedance.org
Three newer dances from their repertoire will be performed:
Tibetan dance(藏族舞蹈)4 min, 2 performers (Irene Hsiao, Xinyi Feng)
China has 55 officially recognized minority groups each with their own customs and forms of dance. One of these groups is the Tibetan people who can be found in the southwest provinces of China such as Qinghai and Sichuan. Their home is at the base of the Himalayas, the tallest place on earth. Tibetan dance has its origins in Tibetan Buddhism and is known for its low, dragging movements which signify a spiritual connection for the people who live where the earth meets the sky.
Winter Steps(踏雪) 3.5 min, solo (Hana Liu)
In ancient China, women from wealthy families rarely ventured outside and certainly, never alone. Performed in classical Chinese style, this next performance depicts a young women enjoying the wonders of snow for the first time as she slips away for a fleeting moment of freedom.
My Home is the Northeast (我家在东北)3 min, 3 - 4 performers (Irene Hsiao, Xingyi Feng, Angela Tam, Yinqing Zhu)
Handkerchief dancing is a style of folk dance from the northeastern area of China known as DongBei. This region is famous for it's unique styles of performance art, as well as it's loud, boisterous residents who are not afraid to share their hometown pride with everyone whether you want to hear it or not.
XXXX
3:00 PM Nanjing Yunjin Brocade - (30 minutes)
Included as the China National Intangible Cultural Heritage, Nanjing Yunjin Brocade is famous for its beautiful cloud-like patterns. We will see in this documentary the concepts and painstaking work of numerous artisans, whose weaving techniques of brocade merges picturesque landscapes with the profound culture of Nanjing.
3:30 PM The Beautiful Scenic Highlights of Mount Tiantaishan - (18 minutes)
Mount Tiantaishan, located in the east section of Zhejiang Province, is a famous holy place for Buddhism and Taoism, as well as an area of exquisite natural beauty. As early as 1,300 years ago, Mount Tiantaishan has inspired many poets and scholars with famous articles and poems about the area. This documentary promises to be a big-screen worthy experience.
3:50 PM Final set of Raffles Prizes to be drawn. Winners must be present to win!
***Event to end no later than 4:30 PM***