STILL HUMAN was successfully screened on Monday, May 13, 2019 at the Gene Siskel Film Center as a special presentation celebrating the Asian Pacific American Heritage Month. Close to 160 audiences attended the premiere of STILL HUMAN, which was the first screening in N. America with filmmakers in attendance. Our audiences enjoyed STILL HUMAN's "thoroughly engaging and uplifting story". They were touched by writer/director Oliver Chan for her "touch for the heart, and insights into a life with disabilities." Most important of all, the terrific performance of the lead actors Anthony Wong and Crisel Consunji! The cafe and the theater were a-buzz with people and energy that night. The Q&A was fun and informative, and the line to meet the director and actress after the film -- even at 11 pm on a Monday night -- was long.
As an organizer, we appreciate the interesting questions from the floor. Stay tuned for our event highlight and the "Q&A Uncut" videos! Sharing here is the festival album for the evening (photo-credits: Dan Hannula and Sophia Wong Boccio). Plus the Highlight video produced by Sistah Soul Productions, Chicago.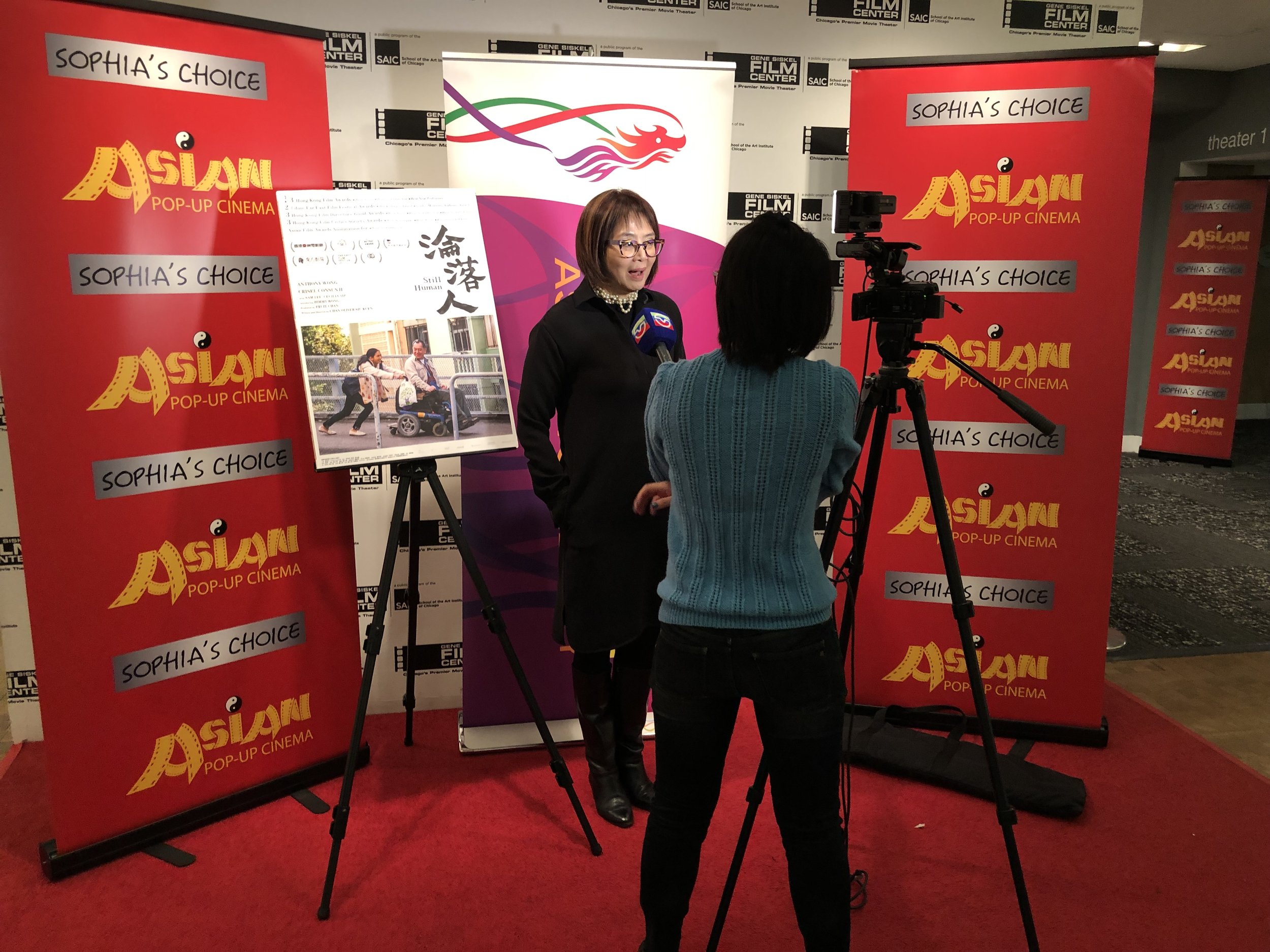 Sharing below our filmmakers' feedback about their experience in Chicago with Asian Pop-Up Cinema!
APUC subscribers: Please use promo code: GSFCPARTNER to pay only $7, discounted rate, instead of $12, either online or at the box office in person. THANK YOU AND SEE YOU MONDAY NIGHT!
Monday, May 13, 8:00 PM @ the Gene Siskel Film Center, 164 N. State Street | Chicago, IL 60601.
STILL HUMAN (淪落人) | CHICAGO PREMIERE
Co-presented with the Gene Siskel Film Center in association with the Hong Kong Economic & Trade Office, New York as part of the celebration of Asian American Heritage Month.
Introduction and Q&A with award-winning Director Oliver Chan Siu-kuen and award-winning lead actress Crisel Consunj
Hong Kong | 2019 | 111 Minutes | DCP
In Cantonese, Tagalog, English with subtitles
Produced by: Fruit Chan and Directed & Written by: Oliver Chan Siu-Kuen
Starring: Anthony Wong Chau-Sang, Crisel Consunji and Sam Lee
Film Source: Golden Scene Co., Ltd, Hong Kong
A paralyzed and hopeless divorcé, Cheong-wing (Anthony Wong) is in need of a caretaker. He meets his new live-in Filipino domestic helper, Evelyn (Crisel Consunji), who has put her dream on hold to come to Hong Kong to earn a living. Living under the same roof, these two strangers develop an unlikely relationship. As they get to learn more about each other, they also rediscover themselves. Together, they help each other through ups and downs, twists and turns, love and loss and experience the different seasons of life. Just when they think they have lost all hope, little do they know, life still has a lot to offer.
Director's statement:
On a random day a few years ago, I happened to see this: a Filipina standing behind the wheelchair. On the wheelchair was a middle-aged man, and they were cruising on the streets. Her long black hair was flowing in the wind, and they both had a big smile on their faces. It was a sweet sight. My immediate reaction was: that's inappropriate, right? But when I thought twice about it, I realized my thoughts were in fact, more inappropriate. Two strangers from vastly different upbringings and cultural backgrounds were brought together by fate. Although they have different stories, they become the closest person in each other's lives. It is actually a very beautiful thing. Click here for Director & Actress Bios.
Nominated for eight major awards, this film just won the best new director for Oliver Chan Siu-Kuen, the best new performer for Crisel Consunji and the best actor for Anthony Wong Chau-Sang. The film just released in Hong Kong on April 11, and enjoying raving reviews and success at the box office.
Click here for Film Reviews - coming soon